Shop with a Cop puts a positive spotlight on policing.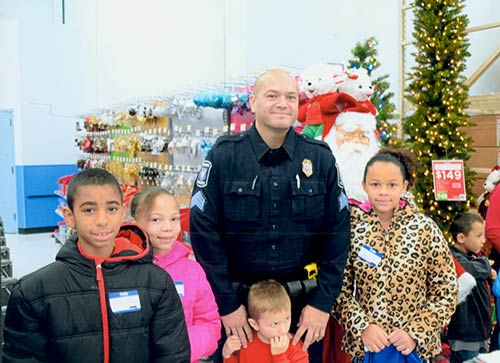 Each year several dozen children from the Racine area are chosen to participate in the annual "Shop with a Cop" program. These students are rewarded with a shopping spree for their hard work and dedication at school and in the community. Econoprint is proud to be a part of this program as well as, a supporter of the Racine County Police Department. Another successful "Shop with a Cop" in the books for the Racine Police Department. 2015 marks the second year of this community outreach program and with positive public feedback, it looks like this annual event will continue to grow.
Giving back to the community is the greatest gift of all.
Police officers of all status and rank come together to give meaning to the season of giving. Children, ranging from kindergarten to 8th grade, team up with local law enforcement to shop and wrap gifts for family members and friends with a shopping spree at Mount Pleasant's Walmart Supercenter. In only their second year of the program, "Shop with a Cop" received funding to sponsor 56 local children.
With the negative stigma towards police seen across the nation, this program is a great event to show children and the Racine community that law enforcement is here to help. Following the holiday season, Econoprint received a letter from officer Krisy Brietchaft. We love being a contributing member of the community are excited to see the program expand in the future years to come.